Did You Know?
36.9 million people living with HIV/AIDS
1.8 million are children living with HIV/AIDS
39 million people have died from HIV/AIDS
1.5 million AIDS orphans living in Africa
150,000 children are believed to be living in child headed households
Only 24.5 Million people with HIV/AIDS are receiving treatment
About 20%, 8 million people did not know that they were living with HIV
AIDS-related deaths have been reduced by more than 56% since the peak in 2004. Approximately 770,000 in 2018 compared to 1.7 million in 2004
Every week, around 6000 young women aged 15–24 years become infected with HIV.
14% of HIV positive adults in Canada do not know they are infected
The number of people with HIV in Canada (prevalence) is increasing. According to 2016 national HIV estimates:

There were an estimated 63,110 Canadians with HIV at the end of 2016.
This represents an increase of 2,945 people (5%) since 2014.
The HIV prevalence rate is 173 per 100,000 people living in Canada.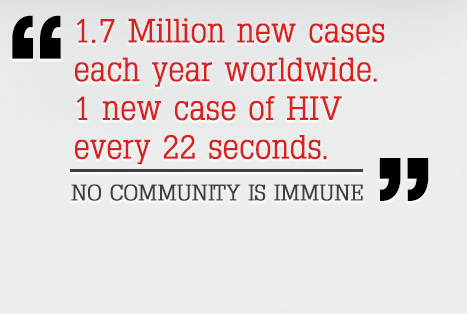 Make a Difference
Proceeds fund local and international initiatives by participating Rotary Clubs and responsible NGOs to win the war on HIV/AIDS through education, prevention, treatment, support for orphans, surviving guardians and people living with AIDS.
In addition, communities stricken by HIV/AIDS will be assisted in overcoming shortages of drinking water, food, or shelter - essential for recovery and a sustainable future.
Supported organizations are carefully vetted for effectiveness and proper stewardship of funds.
About the Rotary HIV/AIDS Walk
The Rotary HIV/AIDS Poker Walk was originally created by members of the Rotary Club of Belleville, Ontario Canada in 2007-08, where it continues to be held each spring.
In 2010, the Walk was also held in Toronto, now as a multi-club event. By 2011 the Toronto walk involved over 24 Rotary Clubs, 3 Rotaract clubs, Anglican churches and 8 HIV/AIDS organizations, overwhelming support from the community, hours of volunteer time by Rotarians, gifts-in-kind by many of their businesses, and generous corporate sponsors.
More than $1 million has already been raised by the two Rotary HIV/AIDS Poker Walks and put to work preventing and relieving the searing impact of AIDS on women, children, and men. This year, with your help, we can greatly increase that amount.
Join us. Walk, Eat, Play - and we all Win!
For more information contact [email protected]